Some client's sites & feedback.
If you're not a technical person, but you want to run a business, you feel very out in the cold these days. 'Get yourself a website' people would say, and I'd break into a sweat.
Very Simple Sites was the answer to my prayers.
Natalie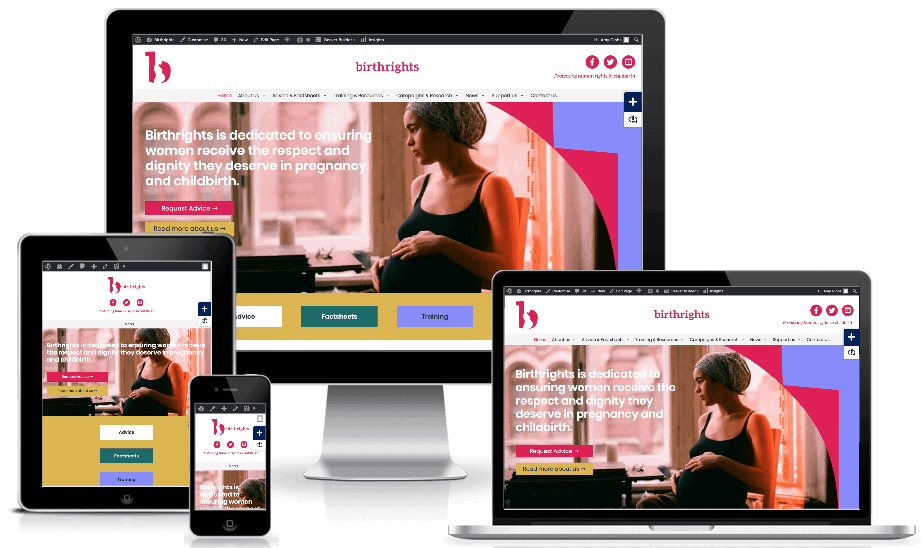 Birthrights
Birthrights does important work for women's rights in maternity care and childbirth and their website was in need of an update.
We were provided with the design and built the site so that they now have a bright colourful site to help spread their message and provide invaluable support to birthing families.
Smartkidz Play and Learn
Smartkidz needed a website for their local after school and holiday playscheme so they could advertise the clubs and allow parents to book places online.
The site features superb photographs along with document downloads, booking and contact forms as well as details of all the clubs.
Southgate Packaging Ltd
Southgate needed a new website to reflect their brand and keep them positioned in the forefront of the packaging industry.
Very Simple Sites built the site based on designs provided by Southgate and we will continue to maintain and care for the site into the future.
Sophie Messager
Sophie offers workshops and support to birth workers and new and pregnant mothers. She says:
Chris is very personable and I have found most refreshing working with him because he speaks my "lay" language, and not some computer jargon unlike many computer experts I have encountered in the past.

Chris really makes an effort to understand what I want, and also equips me with the knowledge I need to update my website myself.
La Leche League GB
As an established and reputable breastfeeding organisation La Leche League GB needed a site that brought their online presence up to date.
The site allows online subscriptions, donations, a postcode search for their support groups and a membership area for their volunteers.
"Chris has built 2 websites for me over the last 4 years and continues to provide a reliable, fast, professional service to this day. He expresses an honest understanding of how my business works which gives him the ability to deliver, improve and maintain my website to best suits my needs.  As my business has grown, then branched off of late into 2 different sectors, he's been there throughout with helpful suggestions, quick changes and friendly customer service.

I love the latest 're-do' of my website, it's modern, simple, fresh and still captures the essence of my business.  Spot on the first time around and it launched after just a few emails, only 3 days of short discussions and while I was on holiday; I'm amazed.  He makes the process so easy, especially for someone like me who doesn't have much free time to get involved in design and word layout. I know I can trust Chris and I do plan on using his web support services for many years to come."
Lynnea Shrief